Many problems can be prevented just by keeping up with basic maintenance and having your septic system inspected regularly. These greatly extends the life of your aerobic treatment unit.
Uncommon Problems (Case Studies)
Other types of aerobic septic problems can be caused by factors outside of our control, these issues can smolder for years before manifesting. See our well-documented case-studies on some of these types of problems below.
Air Pressure
During our inspection visit, one of the main things we check for is the air system on your aerobic treatment unit. If your septic system's air pressure is to high or low, it could cause several different problems depending on it's pressure range.
Side-effects of HIGH air pressure:

More frequent pump-outs.
High soilds build-up in pump tank.
Premature air pump failure.

This is an example of HIGH air pressure in the treatment tank. (almost no bubbles)

Benefits of NORMAL air pressure:

Less frequent pump-outs.
Bacteria can breakdown solids and waste more efficiently
Helps extend the lifespan of your air pump.

The bubble count is much higher after cleaning the air stones. (much more air entering water)

Side-effects of NO air pressure:

Bad odor.
Untreated wastewater sprayed onto lawn.
Constant alarm state on controller.

- This could be caused by any of several issues (broken pipe, damaged diaphrams, clogged intake filter, etc)

Wire Connections
Some installers and manufactures make wiring connections for the water pump inside the pump tank. However the water in the pump tank produces hydrogen sulfide gas and chlorine gas from the chlorine treatment. Both of these compounds are highly corrosive. Corroded wires will cause a short in the water pump and possibly even a short in the controller.
High Solids? Time to Pump!
There are multiple compartments in your treatment unit, we check the levels in each one during our inspection visits to help prevent future issues that may arise with your septic system.
Side-effects of high solids:
Premature water pump failure.
Soilds spraying onto lawn.
Clogged filters, backed-up system.
Inaccessible Openings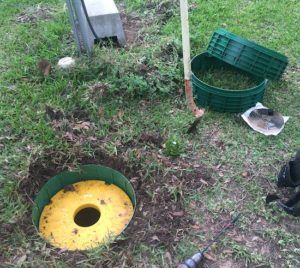 Buried, or otherwise inaccessible tank openings, present a wall of sorts to maintenance providers such as ourselves. It prevents us from fully inspecting your system. We're unable to determine if the septic system needs pumping, has aeration problems, or has a working aerobic chamber.
Additionally, when you have your aerobic treatment tank vacuumed out, most pumping companies will charge extra to dig these openings up, or even worse, not bother with them at all, leaving only part of your tank clean.
Root Infiltration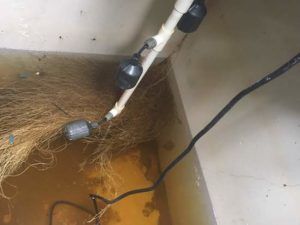 Many times, when a tree grows nearby an aerobic septic system, it's roots will find their way inside. Even if the tree is over 15 feet away from your main tank, roots branch out and then expand, causing damage to pipes, conduit, or even your tank.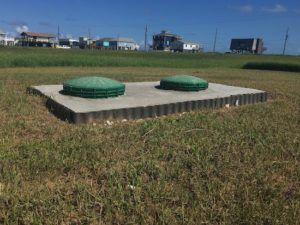 The best way to avoid this is to keep trees and large shrubery away from your septic system. If needed, in certain situations we'll install a root barrier, preventing smaller roots from entering your tank. (tanks installed at ground level can be infiltrated by grass roots, even though they're tiny!)